I currently live in Bay Area, California, arguably one of the most dynamic places, frequently visited by some of the greatest people alive. The opportunity to see these people in person, listen to their talks, attend their workshops is precious and missing them for lack of timely information about these events hurts. Yet, this has been my experience so far, trying to keep a track of such events.
Why is the current event discovery process broken?
There are two main sources for event related information: social media and ticketing platforms. Both are pretty bad when it comes to discovery. These are some examples:
PROBLEM STATEMENT
How can I make it easy to discover events that feature people I follow
STEP 1: Technical exploration
Will it help to search my entire Twitter friend list, across events from Eventbrite? Spoiler alert, yes!
Download all people I follow on Twitter (~900 people), events from Eventbrite (~10,500 events from selected categories), and start matching. Let's see if I can get a filtered list of events that is somewhat valuable. You don't really get speaker's information from Eventbrite, which is probably why they don't have that filter. This is the event information that Eventbrite throws when we use the /search endpoint documented here
So the best we can do is to use description text to search for people's names in them. This is not the best strategy, event descriptions don't always have the names of speakers in them, but it can take us somewhere.
I got around 1500 events that matched, wohoo!
So the approach essentially works. I discovered so many great events that I would not have otherwise. Lets create an app around it and do such matching whenever new events are posted on Eventbrite. Once a basic app is complete, I can add sources of events such as MeetUp etc. I can also use some text analysis on Tweets to filter out the ones related to events. The list of ideas to improve the content can be endless, lets create an app first to this idea some life.
View code for POC on Github:
STEP 2: Design exploration
We have enough to take it outside the terminal and put it in an app. That way I can easily consume and better understand the data extracted so far. It will also help me have conversations with others in a meaningful way.
Here is what we would need essentially
Based on the data I got so far, there are few things that are apparent:
Real-time notifications will be bad user experience. Since events typically have a big enough window to register, we don't have to notify user everytime there is match. Instead giving a page for newly discovered events would make more sense. User can consume that list when they choose.

Venue filter has secondary importance. While the objective of the app is to help users attend more events, chances of which increases if the event is near the user, there is value in showing a complete list. There are several reasons for this, some people can be so important for a user that they might be willing to travel to see them, even if one can't travel, the information of the event can be interesting insight into the people they follow.

Managing people list obtained from Twitter is crucial. Firstly, usernames on Twitter don't always match real names. If our application is searching for names in event description, knowing the real name is vital. Users can provide that information. Secondly, not everyone a user follows on Twitter is of interest to the user from events perspective. For example friends and family. Searching for these people will only produce junk, giving an option for users to turn search off for such people would be very valuable.
Lets start with by getting the data inside FramerX
Perfect! Now that we have real data inside FramerX, we can start making changes to the design keeping the constraints of actual data in mind
Introducing Public Knowledge
Early user testing
UX Your Idea with Ipsos, event at SF deign week 2019
Got an interesting opportunity to demo the app outside my friend circle and get some feedback from people I would normally not get a chance to interact with. It was a terrific experience and I learnt a lot about what resonates with the users and what doesn't. The interviews were conducted by the very talented UX Researcher at Ipsos Paul Otto.
Key Takeaways
Users identified with the problem. All three felt that event discovery is difficult and they have to rely on inefficient workarounds.
2. All three seemed pleased by the idea and wanted more platforms to be included than just Twitter
Feedback on interactions in the app
Users wanted more ways to browse through events. They also wanted to see more information on the event card such as ticket price and availability. And more functionality such as share with friends.

Icons in the navigation bar were unclear to all three

Interaction to add events to favorite made sense after one demonstration

Archive page was not clear. Users were confused whether these were past events that they had attended. They did not think they needed that section at all

People you follow page got mixed reactions. One was confused why we are showing the people here when they are the same people they have on Twitter. Another user liked the ability to turn notifications off for certain people.

It wasn't clear to users why they would want to rename the people they follow. It was a very interesting lesson for me, I realized how I failed to think of the end users before introducing this functionality.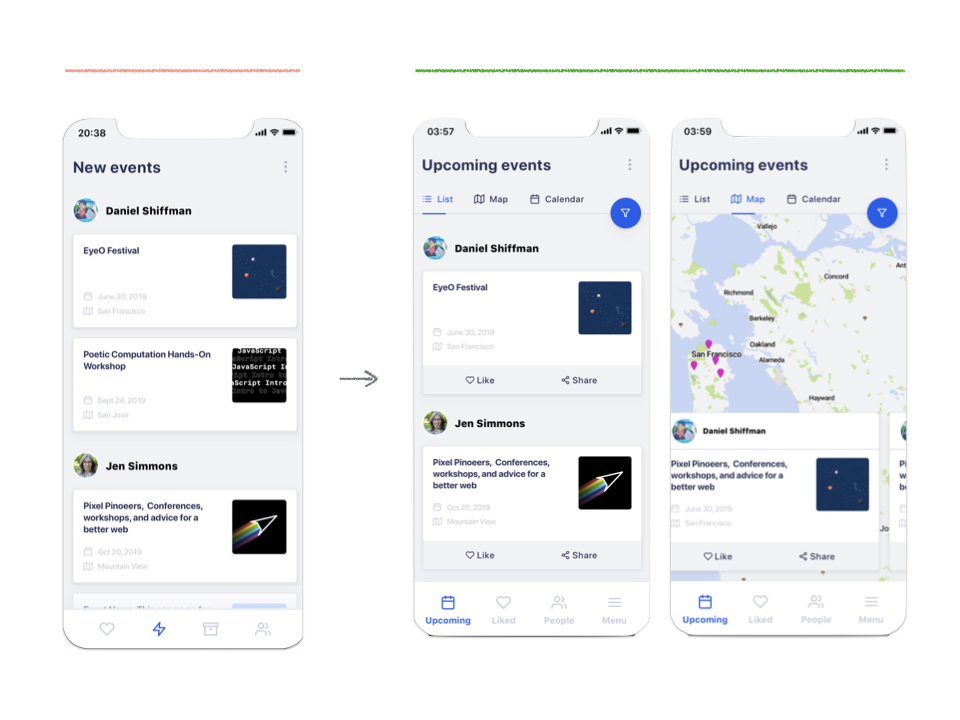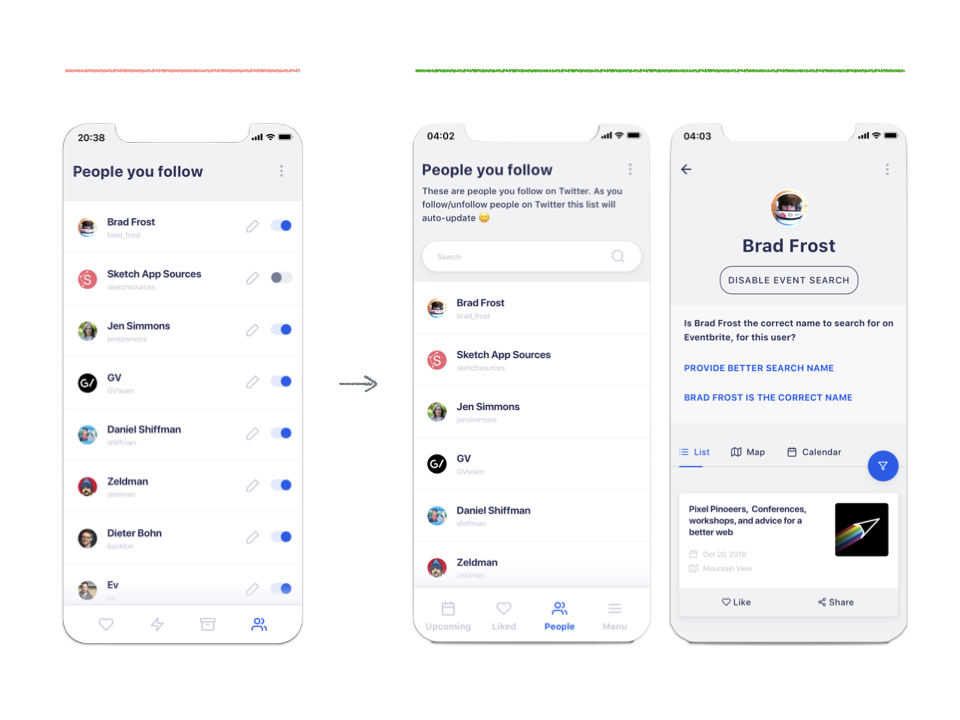 Next steps - creating a test app
Now that I have a good view of the kind of experience I want, I can create a functional app with Adobe PhoneGap to actually use the features daily and improve the product. This section is work in progress. If you want to collaborate in building that app I would love you talk to you. Shoot me a mail on the id given above.